TPI NSW offers a range of services to support our members. These include members meetings, social and welfare clubs and welfare officers. Information about these services can be found by scrolling down this page. TPI NSW is a great place to keep in touch with other veterans, socialise, and be kept informed of developments.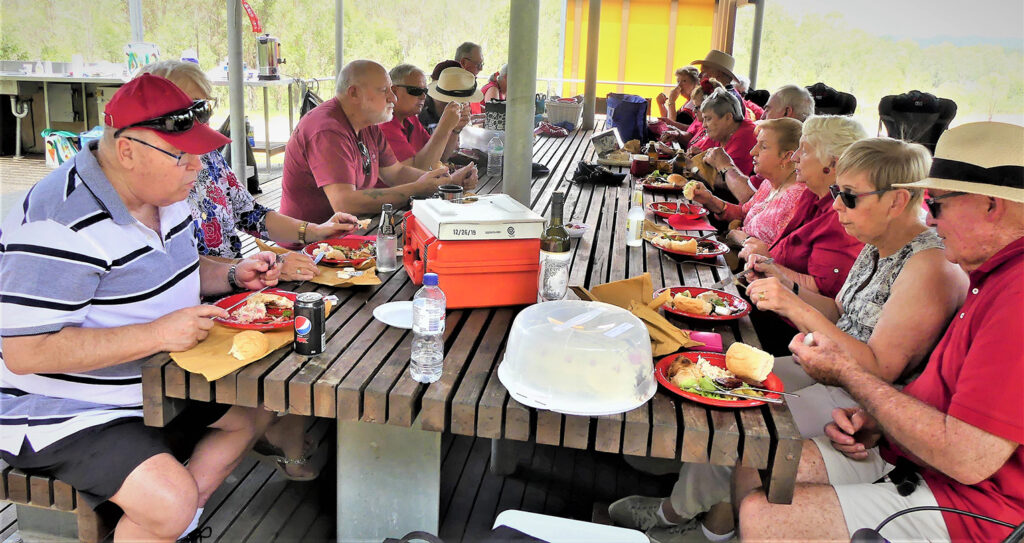 Blacktown & Districts TPI Social & Welfare Club's February 2022 BBQ with the colour theme red.
Joining the TPI Association
Membership is available to DVA TPI Gold Card recipients. If you are a TPI and are not a member of the TPI Association of NSW, please consider joining us. The larger our Association is, the more benefits we can give to our members.
Membership Application and Renewal Forms
Membership application and renewal forms can be accessed here.
Members Meetings
Members meetings are held of the fourth Tuesday of every month, commencing at 1pm at Barracks on Barrack, 2nd floor, 5 – 7 Barrack Street, Sydney. Some dates may be subject to change due to public holidays or cancelled at a general meeting. If in doubt phone TPI NSW head office Monday – Thursday, 9:00am – 4:00pm on 9235 1466.
Dates for upcoming meetings
Tuesday 26 July 2022
Tuesday 23 August 2022
Tuesday 27 September 2022
Tuesday 25 October 2022 AGM
Tuesday 22 November 2022.
Welfare Officers
Welfare officers are qualified to assist in many ways such as hospital visits, bereavement counselling and assistance with funeral arrangements, pension information and are trained and experienced in dealing with the many issues that veterans face. These members volunteer their time and are kind, understanding and helpful.
Social and Welfare Clubs
There are five TPI social and welfare clubs in NSW. These clubs are
• Blacktown & District TPI Social & Welfare Club
• Hornsby & District TPI Social & Welfare Club
• Illawarra TPI Social & Welfare Club
• Nowra & District TPI Social & Welfare Club
• South Western Sydney TPI Social & Welfare Club

The clubs meet monthly and provide an opportunity for members and their carers, partners and friends to socialise and go on outings.
For welfare officer contact details and information on social and welfare clubs click here.
Counselling for veterans and their families is available through Open Arms.